Bloggaday 147 – Whippersnapper Icons
Like I said the other day, I got a new laptop. I'm definitely a fan, but I think my big problem is the look of the new icons.
The default folder icons on my old laptop were awesome. They had a 3 dimensional feel to them., slanted and all that. The new laptop's folders look terrible. Circa 1988, these bad boys look like they could have been done on MS Paint.*
So I went on a mission, a mission that would take me across the vast expanses of the interwebs to find a replacement. Fresh from my work on the Milk Chronicles, I was ready to take this new challenge. I would scour every unturned inch of the internet to find the right replacement that would serve as my new generic folder icon.
I had to break the search into 2 separate outings. As it turns out, the whole "every inch of the internet" takes a little while. I'm definitely making headway though.
Here is what the old folder looks like

At first, I went for more of a Star Trek theme, but I decided to go a bit different of a way with it. The blue folder here was my default icon for a day
But then I went for the white folders seen here. The default Safari icon is that blue square with the modified compass. The other shortcuts in the top are just for particular website.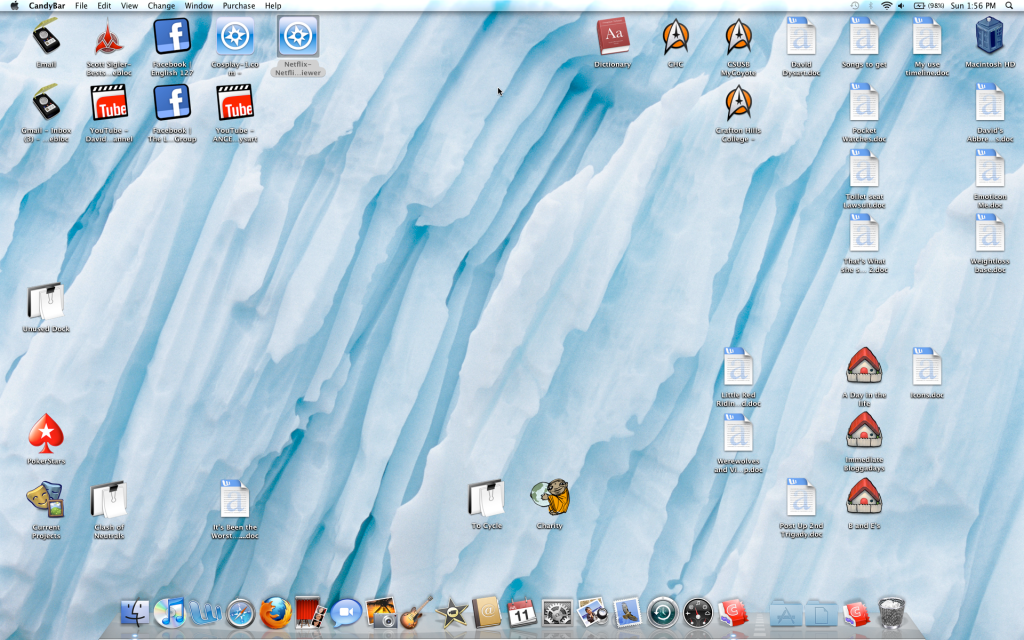 As you can see from the desktop shot, folders associated with the Bloggaday are houses with the nice little white picket fence. Also good shots on the default internet file.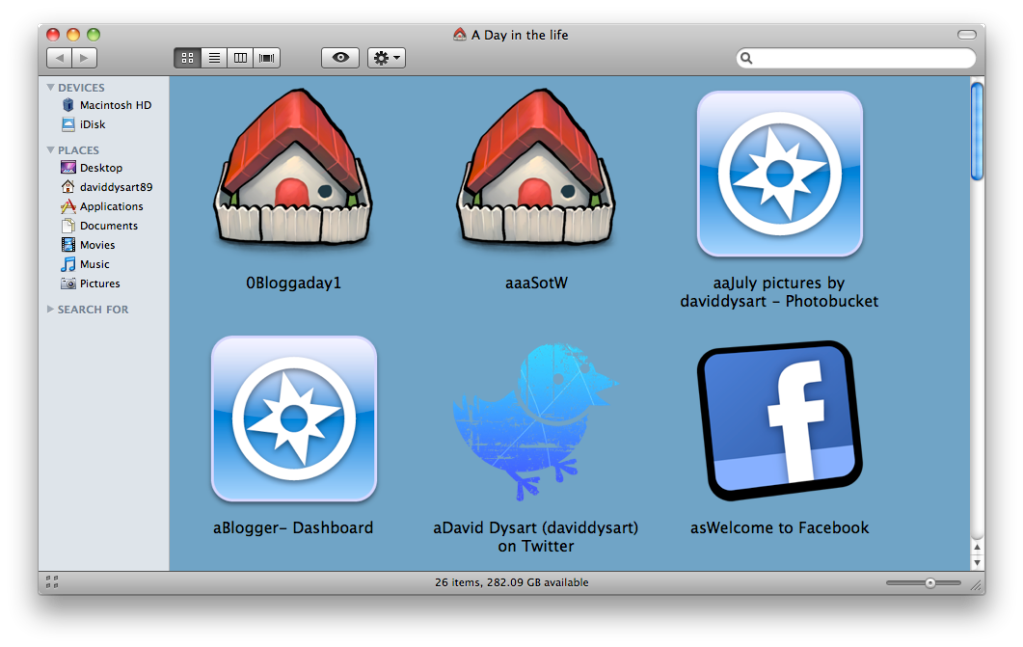 I really like the Kill Bill drive icon, so I decided to make all of my movie folders like that. I also used a similar one for ejectables.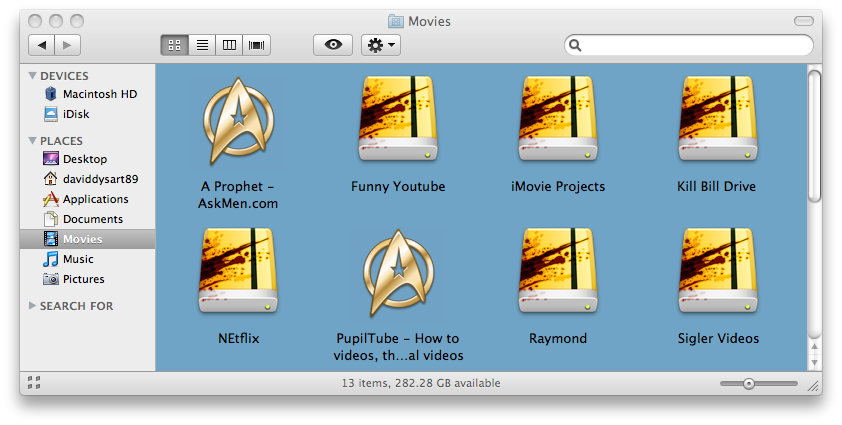 And here's just a few more icons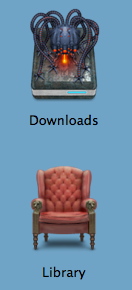 I think the next thing I have to figure out has to do with file previews. If you "get info" for a file, you can select to "Show Preview" or not. I want to do that for pictures, but not for word documents. I like the automatic preview the Mac shows for word docs. It would appear though, to set it for the entire computer, you have to set it for both. I didn't think I had this problem last time.
Oh well, another filler blog for the Bloggaday
Listening to
Two and a Half Men
Twitter Tag
Those dim whippersnapper icons on me new laptop don't know nothin
Exit stage right to my corner of the interweb > \/
http://twitter.com/daviddysart Plaster Caster Twitter Strutter
http://daviddysart.tumblr.com/ Hung My Head in a Tumblr
http://thebloggaday.blogspot.com/ A Little Less Conversation and a Whole Lotta Love
http://www.facebook.com/thedaviddysart?ref=sgm If I Never See Your Face Again
Youtube Awesomeness
http://www.youtube.com/user/DavidDysart Still deciding to try to capture it or let it slip
For the Piccaday
http://s1000.photobucket.com/albums/af128/daviddysart/Piccaday/ Says I broke it twice, I must have done it half a dozen times
http://thepiccaday.blogspot.com/ Because Yesterdays ain't got nothing on me
http://www.flickr.com/photos/daviddysart/sets/72157623465996877/ From the nest in the hills chillin' with Flynt
New to the Bloggaday? These are the essential posts to see
1 The basics
http://thebloggaday.blogspot.com/2010/02/bloggaday-1.html
3 Get PWND with story content
http://thebloggaday.blogspot.com/2010/02/bloggaday-3-1st-pwnd-edition-ever.html
73 Mash-up of science and relatable humor? It's just Bloggaday
http://thebloggaday.blogspot.com/2010/04/bloggaday-73-pwnd-with-side-of-bacon.html
85 Deadpan humor and drama, what more can you want?
http://thebloggaday.blogspot.com/2010/05/bloggaday-85-my-public-apology-for.html
118 Maybe some practical real world advice drowned in humor.
http://thebloggaday.blogspot.com/2010/06/bloggaday-118-my-guide-to-efficiency.html
120 My new favorite segment, the Song of the Week with Tom and Chuck
http://thebloggaday.blogspot.com/2010/06/bloggaday-120-sotw-3.html
147
*
:==_____
| |
|_______|