Bloggaday 187 – Craftspicable Me: A '58 Gibson Les Paul pt 3
Now I didn't go into the thing thinking 'tutorial', so I'm not going to try to jerryrig one. If I ever make another one though, I definitely would. As a whole, I'm happy with it. It's kind of like the first faux katana I made a couple of weeks ago (imminent Bloggadays will talk about these). I originally set out to make a katana for myself because, again, I thought it would look cool. I wasn't completely happy with it though, so I thought, "Hey, I bet my nephew would like this. I could just make myself a new one." Unfortunately, I don't know anyone who would have any feelings with any semblance to happiness to receive a mediocre fake guitar, so I kept it. If I do though, expect a guitar tutorial for a future Bloggaday.
I wasn't thrilled with the paint job on the body of the guitar. I don't use paint a lot, so my mixing skills aren't very good. I did the back first, which is pictured below
The front paint job was a bit of a clustermuck.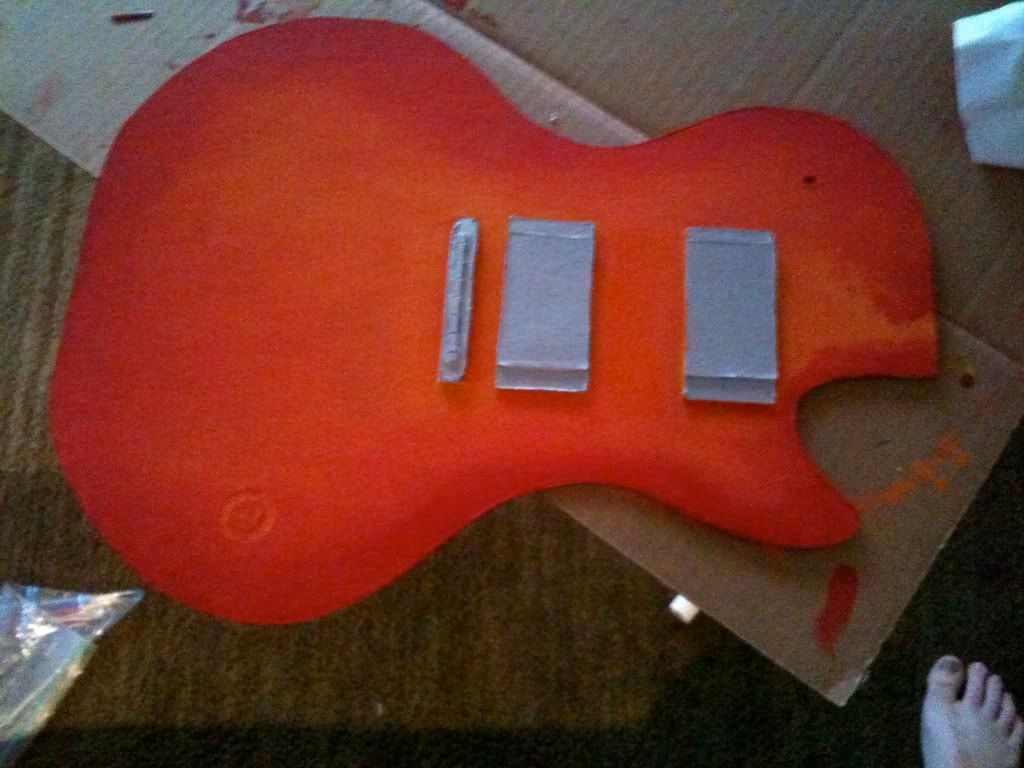 I ran out of yellow before I could finish the painting, so I had to go to the store and redo it. Unfortunately, I put too much red for the faded section, so it turned out a bit mediocre.
Let's see… I painted the neck but used a sharpie for the mother of pearl. I've already scratched it up a little bit, but meh.
This was a very good introductory project for me. I don't do a lot of stuff like this, so I think it really helped me quite a bit to prepare for the particleboard katanas I made.
Yeah, I guess that's it.
Listening to
Twitter Tag
Exit stage right to my corner of the interweb > \/
http://twitter.com/daviddysart Plaster Caster Twitter Strutter
http://daviddysart.tumblr.com/ Hung My Head in a Tumblr
http://thebloggaday.blogspot.com/ A Little Less Conversation and a Whole Lotta Love
http://www.facebook.com/thedaviddysart?ref=sgm If I Never See Your Face Again
Youtube Awesomeness
http://www.youtube.com/user/DavidDysart Still deciding to try to capture it or let it slip
For the Piccaday
http://s1000.photobucket.com/albums/af128/daviddysart/Piccaday/ Says I broke it twice, I must have done it half a dozen times
http://thepiccaday.blogspot.com/ Because Yesterdays ain't got nothing on me
http://www.flickr.com/photos/daviddysart/sets/72157623465996877/ From the nest in the hills chillin' with Flynt
New to the Bloggaday? These are the essential posts to see
1 The basics
http://thebloggaday.blogspot.com/2010/02/bloggaday-1.html
3 Get PWND with story content
http://thebloggaday.blogspot.com/2010/02/bloggaday-3-1st-pwnd-edition-ever.html
73 Mash-up of science and relatable humor? It's just Bloggaday
http://thebloggaday.blogspot.com/2010/04/bloggaday-73-pwnd-with-side-of-bacon.html
85 Deadpan humor and drama, what more can you want?
http://thebloggaday.blogspot.com/2010/05/bloggaday-85-my-public-apology-for.html
118 Maybe some practical real world advice drowned in humor.
http://thebloggaday.blogspot.com/2010/06/bloggaday-118-my-guide-to-efficiency.html
137 My new favorite segments, the Sotw and PoM with Tom and Chuck
http://thebloggaday.blogspot.com/2010/07/bloggaday-137-june-performer-of-month.html
187 August 20