Bloggaday 214 – A Train of Thought: Now Departing From Covert Affairs to Farmed Gold pt 1
Bloggaday 214 – From Covert Affairs to Farmed Gold, a Train of Thought pt 1
Ah, so I had another one of those crazy train-of-thoughts in the shower just now a la Bloggaday 174 – From Naruto to Communist China's Army, a Train of Thought by David Dysart http://thebloggaday.blogspot.com/2010/08/loggaday-174-from-naruto-to-communist.html
Now, instead of going back through and piecing it together like I did last time, I figured I would just write about the thoughts.
So a few weeks ago, I started watching the new show, Covert Affairs. Granted, it's a chick show, but I gave it a chance due to the CIA spin. Now I'm invested enough that I'll watch the one season it's going to get. Anyways, now that I've justified why I've been watching it, I can move on to my thought of the whole role Emmanuelle Vauger (Mia from Two and a Half Men) plays in it. Now if you haven't seen the last couple of episodes, SPOILER ALERT. Mia plays a reporter that has a leak in the CIA. It makes it look like it was going to be the secondary protagonist who is also a CIA agent. Then you find out he's dating Mia, but only to figure out whom her leak is. Of course, she's still trying to pump him for info while pumping him… Well, it turns her leak is the old, super-secretive CIA bigwig.
Now, they've already set this guy up like a bit of a lecher, so I'm guessing Mia had to let him lay some pipe as well. People tend to cast her as a bit of a *cough* slut *cough.* Once I had come to that conclusion, I started pondering on the life where you constantly have to game people by selling your body for your job.* I spun off on that depressing bit for a while, but then I ended up with a general conclusion of the main women on Two and a Half Men, but more on that next paragraph. In fact, let's go there now.
While major female characters in Two and a Half Men tend to be very fit, they don't tend to be the most attractive women. I wouldn't go as far as to call them butterfaces or anything, but when compared to a lot of the women they get, there more prominent characters are pretty meh. Don't take my word, though, let's just look at some of them. I'll go from IMDB and post a picture of the women starting with the most episodes they appeared in and then go down the list.
Unfortunately, I'm already knocking on the door of 500 words, so I guess I'll post the first three women, who don't really fall into this category.
At 118 episode, the most common woman on Two and a Half Men is…
Conchata Ferrell as Berta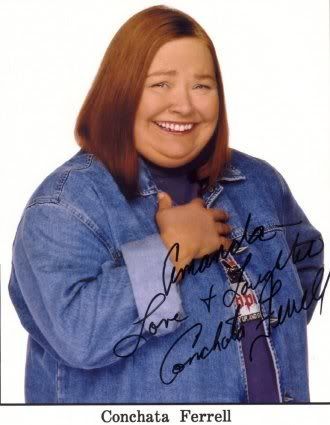 Berta is Berta and not one of the actresses I had in mind when I was thinking about that last paragraph
With quite the jump, at 78 episodes the second most frequent female star is…
Holland Taylor as Evelyn Harper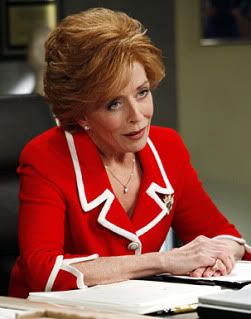 Evelyn is, again, not a character that applies to my train of though. You'll have to wait until the next post!
Our last character for this post has been in surprisingly few episodes. With 51 under her belt, the actress is…
Melanie Lynskey as Rose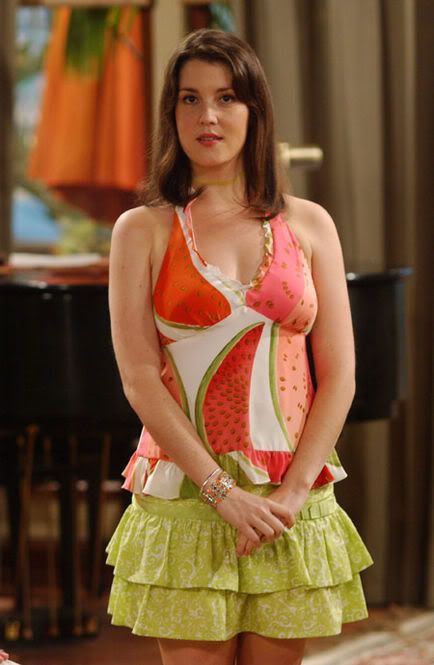 Personally, I'm a fan of the actress who plays Rose, and she doesn't fall into the "meh" rule.
Now that I have the three most episodic women from Two and a Half Men who apparently got grandmothered in before the "meh" rule came into effect, in Bloggaday 215, you'll see what I was talking about.
What can be a better Final Thought
Than the promise of eye candy?
If you can think of it, then
The comment below
Listening to
FOOTBALLLLLLLLL!!!!!!!!!!!!!!!!!!!
Twitter Tag
All aboard for another crazy @$$ train of thought, now departing from Covert Affairs, on at Bloggaday
Exit stage right to my corner of the interweb > \/
http://twitter.com/daviddysart Plaster Caster Twitter Strutter
http://daviddysart.tumblr.com/ Hung My Head in a Tumblr
http://thebloggaday.blogspot.com/ A Little Less Conversation and a Whole Lotta Love
http://www.facebook.com/thedaviddysart?ref=sgm If I Never See Your Face Again
Youtube Awesomeness
http://www.youtube.com/user/DavidDysart Still deciding to try to capture it or let it slip
For the Piccaday
http://s1000.photobucket.com/albums/af128/daviddysart/Piccaday/ Says I broke it twice, I must have done it half a dozen times
http://thepiccaday.blogspot.com/ Because Yesterdays ain't got nothing on me
http://www.flickr.com/photos/daviddysart/sets/72157623465996877/ From the nest in the hills chillin' with Flynt
New to the Bloggaday? These are the essential posts to see
1 The basics
http://thebloggaday.blogspot.com/2010/02/bloggaday-1.html
3 Get PWND with story content
http://thebloggaday.blogspot.com/2010/02/bloggaday-3-1st-pwnd-edition-ever.html
73 Mash-up of science and relatable humor? It's just Bloggaday
http://thebloggaday.blogspot.com/2010/04/bloggaday-73-pwnd-with-side-of-bacon.html
85 Deadpan humor and drama, what more can you want?
http://thebloggaday.blogspot.com/2010/05/bloggaday-85-my-public-apology-for.html
118 Maybe some practical real world advice drowned in humor.
http://thebloggaday.blogspot.com/2010/06/bloggaday-118-my-guide-to-efficiency.html
137 My new favorite segments, the Sotw and PoM with Tom and Chuck
http://thebloggaday.blogspot.com/2010/07/bloggaday-137-june-performer-of-month.html
214 September 16